Payment Options
Pay your nrg bill easily and quickly!
Choose the payment method you want!

Νέα υπηρεσία Ηλεκτρονικού Λογαριασμού nrg INSTANT BILL! Η εξόφληση του λογαριασμού σας πιο εύκολη από ποτέ!
Πληρώστε στη στιγμή, εύκολα και γρήγορα, με ένα μόνο click! Επιπλέον μπορείτε να δείτε το λογαριασμό σας και να τον αποθηκεύσετε ή να τον τυπώσετε, πάντα με απόλυτη ασφάλεια! New Phone Account Payment Service by phone
By charging your credit or debit card from any bank, call 18101 or 2111032132.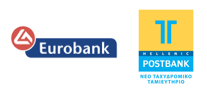 Via Eurobank - New TT Hellenic Postbank's network, without charge, by using the payment code, in the following ways:
By Standing Order through your Bank Account
By Payment in Cash
By debiting a Bank Account
By using the Bank's Web Banking service
By using the Bank's Phone Banking service


In all Associated Banks:
By visiting a branch and debiting your Bank account or paying in cash.*
By Standing Order through your Bank Account
By using the Bank's Web Banking service
By using the Bank's Phone Banking service